We Know Audiences.
Strategies and tools to help publishers generate revenue. Manage, grow and monetize first party data.
Audience Intelligence. Data Innovation.
Increase Revenue Potential
Sophisticated Platform
Audience Strategies
Data Services
Marketing Integration
<! -- end flipbox -->
"Audativ is the complete package for fully integrated audience development."
- Tim Fixmer, CCI Media
"Whoever knows the audience best, wins." - John Cappelletti, Putman Media
Experienced Partners
Forward-thinking data experts to help you stay engaged with your audiences.
Protect your audience data, achieve your goals, and increase profitability with Audativ's audience intelligence solutions.
<! -- end flipbox -->
Full-Service Audience Strategy and Circulation Management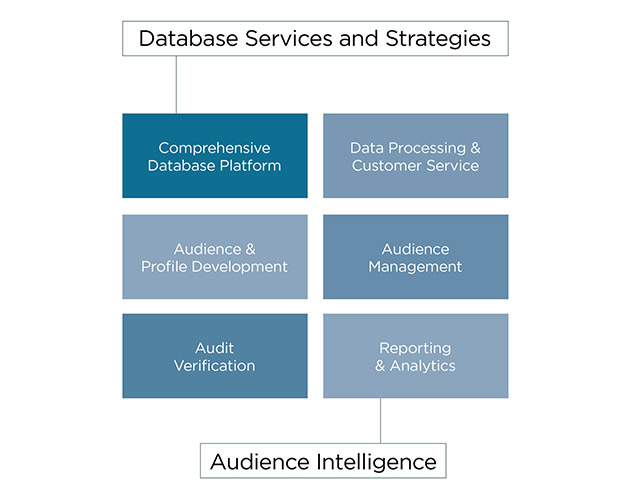 <! -- end flipbox -->
Data, Research, and Marketing
Expert Consulting and Data Intelligence
Solutions
Subtitle
Innovative and reliable audience data gives you real-time insights to deliver impactful content that grows your community—and your bottom line. Make your data work harder and smarter with customized audience management solutions from Audativ.
Strategic Audience Management
Get to know your audiences with deeper insight and intelligence to drive a stronger response
Comprehensive Database Platform
Integrate and analyze all audience data sources in a single, powerful platform
Analytics
and Reporting
Make informed decisions with real-time data from your custom criteria
Sophisticated Data Services
Maintain data integrity with custom governance solutions
Our Customers Say It Best
"Audativ knows data AND audience strategy/development"
<! -- end flipbox -->
"Stamats builds confidence with their professional and methodical approach."
"HONESTY and TRUTHFULNESS are their hallmarks. Never pie in the sky."
"Their staff exudes professionalism and credibility."
"Stamats is way more cost effective than their competitors"
<! -- end flipbox -->
"Your data base needs to be your GOLD MINE! If not, you're looking at the universe through the wrong end of the telescope."
<! -- end flipbox -->
"The Audativ audience profile tells the story of your audience not just for print distribution."
"Stamats presents NO OBSTACLES. They're FAST, FLEXIBLE, RESPONSIVE, INNOVATIVE and DEPENDABLE."
Our Team
<! -- end flipbox -->
Shane Austerman
Chief Financial Officer
Kim Leonard
Chief Audience Officer, Vice President
Barb Schrafel
Director of Audience Development
<! -- end flipbox -->
Kelly Rosaaen
Audience Manager
Jackie Ott
Audience Manager
Wendy Bulechek
Audience Manager
<! -- end flipbox -->
Sammy Garrett
Account Executive
Chelsea Odegard
Audience Manager
Read Our Latest Press Release
CEDAR RAPIDS, Iowa, April 6, 2022 /PRNewswire/ -- Stamats Communications, Inc. announces the acquisition of the Audience Management services of TriMax Direct, effective April 1, 2022. The clients moving over from TriMax Direct will move into Audativ, the audience management division of Stamats.
Read more: Stamats Makes New Audience Management Acquisition